Bauer Quick-Disconnect Pipe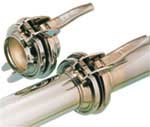 Godwin Pumps features the unique Bauer pipe and adapter quick disconnect coupling system on suction and discharge hose and pipe. Fast and easy to use, a Bauer piping system can be set up in minutes while offering the flexibility of deflection at each joint up to 30". Strong and durable yet lightweight, Bauer pipe is produced from high tensile strength abrasion resistant steel that is hot-dipped galvanized and is available in 3', 6', 10' and 20' lengths.

Easy installation . . . snaps together in seconds.